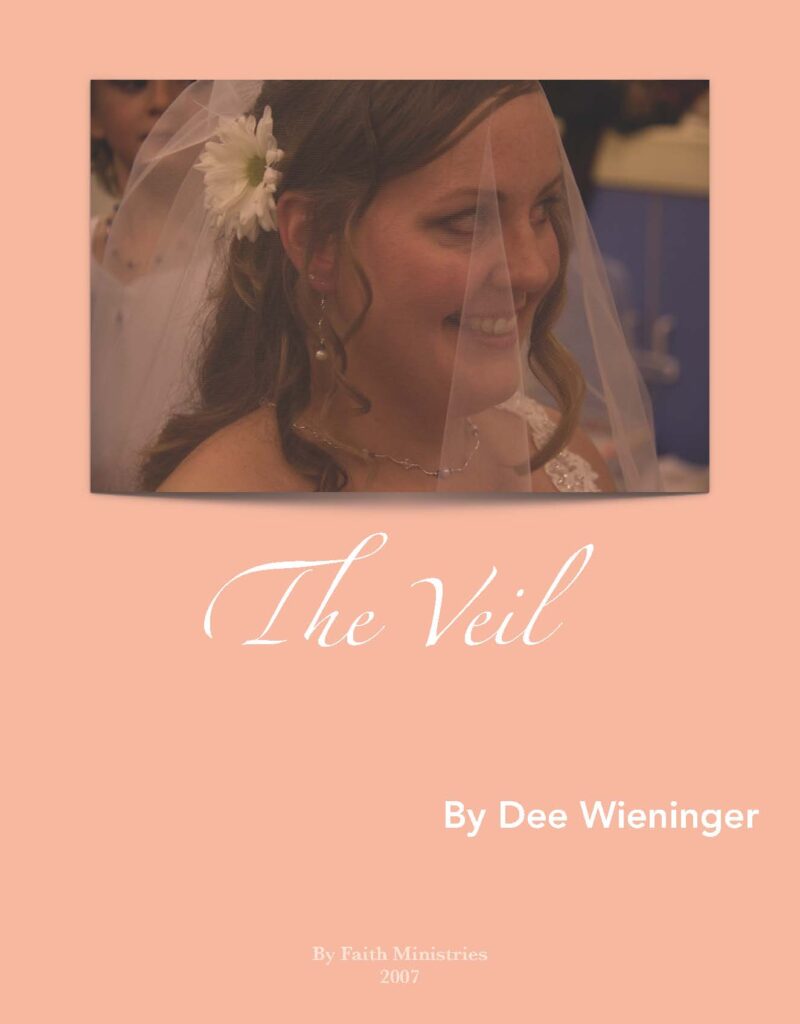 I had the joy and frustration of making our daughter Bonnie's wedding veil. Her gown had beautiful beading streaming down the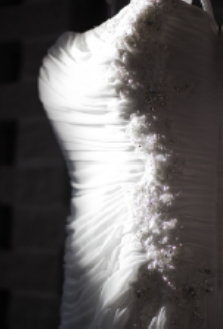 left side and she asked if I might be able to line the hem of the veil with that same beading. I told her I'd give it my best shot and even to the point of tears managed to line the assorted types of beads around the veil.
I have made a couple veils through the years and the way I attach the veil to the head piece is with Velcro(c). That way the bride could remove the veil for the reception and leave the barrette or tiara. My oldest daughter Tara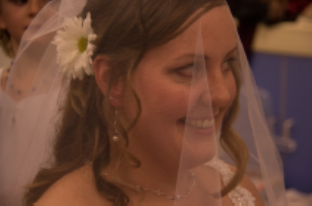 helped me with the last part of strategically placing the Velcro carefully on each item as I wanted it to sit straight on Bonnie's head. It really was very pretty and as with all brides when my oldest daughter Tara and I pulled the veil over Bonnie's face what a sight we beheld. What is it about the finishing touch of a veil that makes a bride so stunningly beautiful? Does it cover flaws that would otherwise be seen or is it just an ornate accessory that frames the portrait? Maybe it's just something God intended that we'll never truly understand? Whatever it was, Bonnie looked so beautiful!
Down the isle she came and at just the right time Fred (Dad) pulled the veil back placing it behind Bon's head to present her to her groom.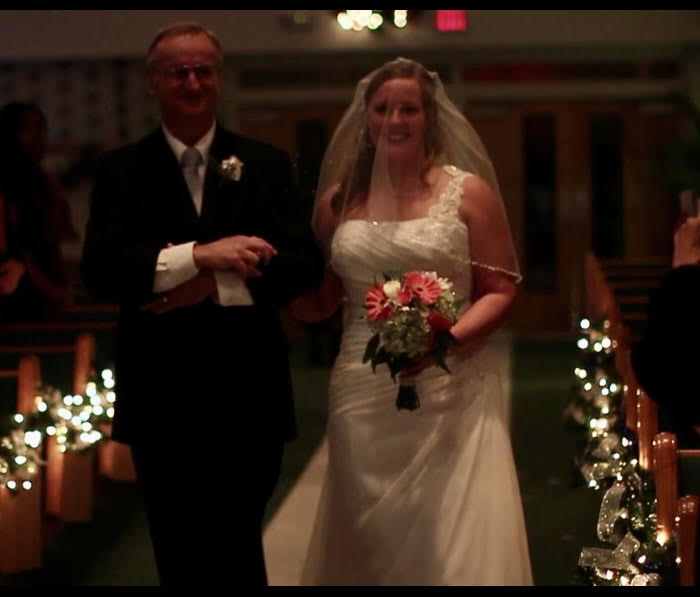 As she and Sam said their vows my eyes were on her veil. I guess that's what happens to the creator of an item, it becomes their sole focus especially when something isn't quite right! Tara and I had correctly placed the sticky velcro but I had not stitched it! I noticed that the veil was becoming detached from the barrette. It was all I could do to keep from jumping out of my seat and running over to pinch it back in place! I was praying fervently, "Please God just keep it on her head till she gets to the reception hall!" God always, always answers our prayers but sometimes the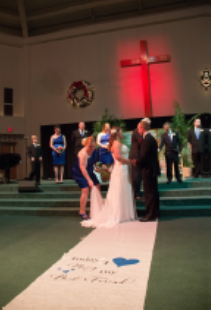 answer He gives is, "No!" The veil slowly detached and slid ever so gently down Bonnie's back resting quietly on her wedding gown train. The pastor noticed and asked the matron of honor, Tara, if she would like to fix it which she did and within a matter of seconds it began to come unstuck. Again, the veil found its place on the floor, Bonnie whispered to the minister that, "It was okay!" and Tara brought the veil to me. I was sweating bullets and felt so bad but immediately the Lord gave me his peace and comfort by telling me, "When I remove a veil it stays removed! I said, "Okay Father" and with that returned my total attention to the beautiful couple and the words being spoken. If we take time to meditate on God's life lessons we usually find numerous 'purpose points to ponder.' One thought could be that even though I felt I had done a pretty good job I didn't take the necessary steps of reinforcing the heavily beaded veil with just a few stitches that might have held it more securely in place. This could reflect areas in our lives that we know are weak but we do nothing to strengthen them. Praying and asking God to help us is an excellent start but we must do our part, working with the Holy Spirit, to gain the strength needed in the weaker areas of our lives.
Is it possible that I was so focused on my own creation that I wasn't totally enjoying the moment that God was creating. We do that you know! We put so much time, effort, sweat and tears into something that even when it is finally serving its purpose we keep building and rebuilding it in our minds. It becomes a point of distraction. God was removing my prideful source of distraction so I would re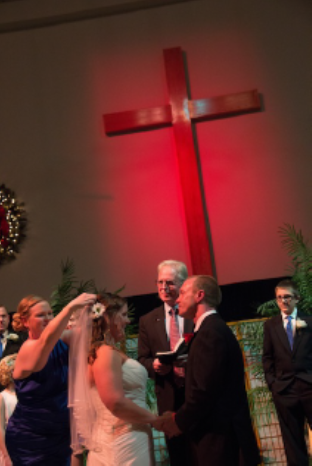 turn to the main event. Sounds plausible and highly possible but I think God may have been going just a little deeper then that. Sam shared with us, as I mentioned in the previous story, that he felt as though God had removed a veil from his eyes about marriage and lifelong commitment. The joy that entered that man's heart was a delight to see! It was so much fun to share in his joy. This is how it is in the life of a new believer! God removes a veil to reveal his unconditional love and salvation and the joy that enters your soul is beyond words! What is it we're thinking when we try to replace the veil in an attempt to cover up that tug on our heart that God is offering to come to Christ? Are we seeking a life free from loving commitment and the possibility of being hurt or controlled? Do we truly believe we are better off without God? What an awesome gift and blessing it is that the God of the universe wants our heart! Stop fighting Him. When God says it's time, it's time! The veil is coming off and a newfound life in and with Him is beginning? If God is revealing himself to you today stop trying to replace the veil. Let that which you think is covering your flaws be removed. It is only keeping you from seeing and knowing the love God has for you. He wants to reveal the radiance of Christ in you! It is Christ that adorns you for our Heavenly Father God! Let the veil stay removed and live to seek and know God. He wants to reveal the great and glorious things He has in store for you!
But whenever someone turns to the Lord, the veil is taken away. For the Lord is the Spirit, and wherever the Spirit of the Lord is, there is freedom. So all of us who have had that veil removed can see and reflect the glory of the Lord. And the Lord—who is the Spirit—makes us more and more like him as we are changed into his glorious image. 2 Corinthians 3:16-18