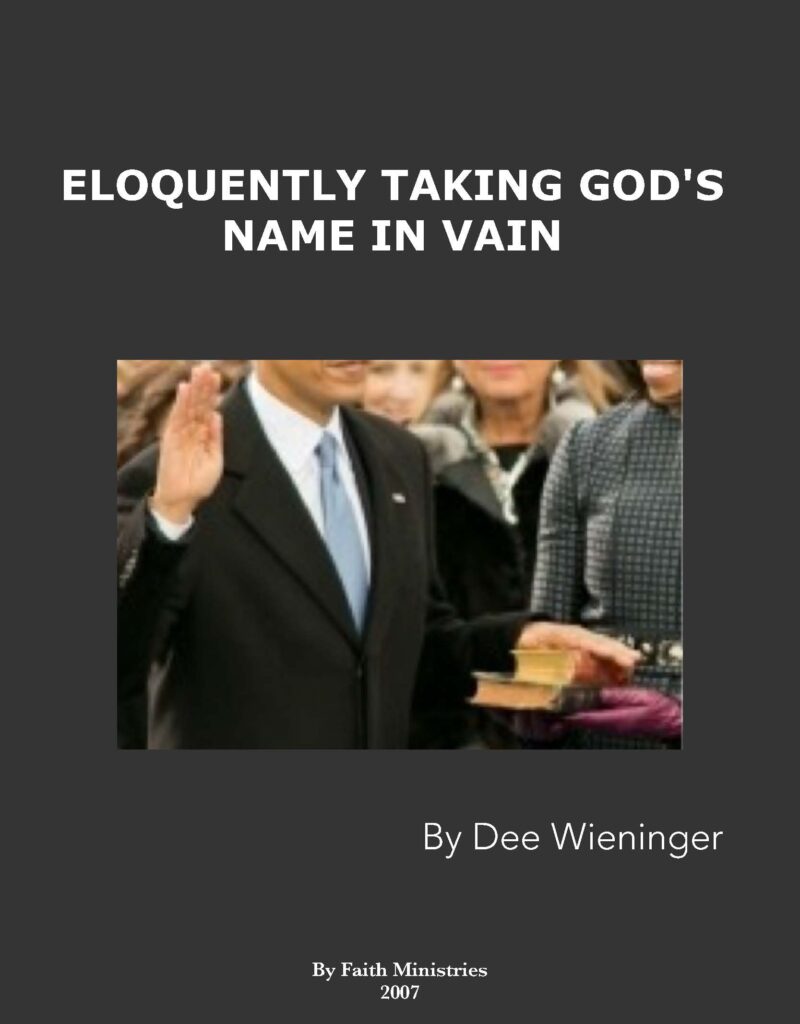 On its own merit, without consideration of the past four years, President Obama's second inaugural speech was excellent. One thing that caught my attention and I confirmed after finding a *copy of his speech online, is that he used "God's name" five times and referenced God's blessings and/or providence equally as often. President Obama used God's name in such a way that to him and those listening might have thought it was with the utmost respect and reverence. I'm beginning to believe that using God's name in vain does not necessarily mean using it as a curse word, or in anger or frustration. This is the first time I have ever thought that when we use God's name in such blatant familiarity, as to propel our own agenda, our own purposes or even our own prayer requests without true regard to how God feels on the subject, He might rightfully call this using His name "in vain"!
Now let's couple this speech with the past four years. (A good tree cannot bear bad fruit, and a bad tree cannot bear good fruit. Thus, by their fruit you will recognize them.) (Matthew 7:18, 20 NIV84)
President Obama: "My fellow Americans, the oath I have sworn before you today, like the one recited by others who serve in this Capitol, was an oath to God and country, not party or faction – and we must faithfully execute that pledge during the duration of our service."
When one makes an oath to God is it a stretch to trust that the one making the oath, believes in and holds in high regard the God to whom he makes his pledge? If he does trust in this God could I also assume that this same person would hold to God's will for his life; a will that resides in the "two" Bibles on which he has just placed his hand in a solemn oath?
President Obama eloquently stated that, "We, the people,'still believe that our obligations as Americans are not just to ourselves, but to all posterity". Really? Does President Obama and our U.S. government truly believe that? Allow me to select just one of the numerous topics God would differ with the United States of America about. The Bibles (God's Holy Word) President Obama placed his hand on says," For you created my inmost being; you knit me together in my mother's womb. I praise you because I am fearfully and wonderfully made; your works are wonderful, I know that full well. Your eyes saw my unformed body. All the days ordained for me were written in your book before one of them came to be." (Psalms 139:13, 14, 16 NIV84). President Obama went on to state, "Let each of us now embrace, with solemn duty and awesome joy, what is our lasting birthright." If our obligation is to 'our posterity' why in the world are we killing them off while still in the womb? President Obama: "With common effort and common purpose, with passion and dedication, let us answer the call of history, and carry into an uncertain future that precious light of freedom." While these are all good words shouldn't we let our obligation and precious light of freedom start with the unborn Americans while they're in the womb and "with passion and dedication" allow their 'lasting birthright' start with the right to birth; from there they too will live their unalienable right for LIFE, liberty and the pursuit of happiness!
President Obama: "Progress does not compel us to settle centuries-long debates about the role of government for all time – but it does require us to act in our time."
"For history tells us that while these truths may be self-evident, they have never been self-executing; that while freedom is a gift from God, it must be secured by His people here on Earth"
Yes Mr. President, I wholeheartedly agree! It is time for God's people to act, to make the changes necessary to show our true, pledge-making trust in Him, and His will. No longer eloquently speaking His name in vain in order to present a powerful speech, but, to live a powerfully endowed life, in the will of our Creator, giving God the honor and glory due His oath-pledging name and, just maybe, He will "forever bless us and these United States of America."
*Read more: http://www.businessinsider.com/full-text-obama-inauguration-speech-2013-1#ixzz2IdWHRZsa