DOING THE DIFFICULT ON PURPOSE!

by Dee Wieninger
"It seems absurd to me that people give great time, effort and expense to participate in a sport that offers "hair raising black diamond slopes"…on purpose; but when it comes to our marriages or a difficult chapter in our lives we give up on others including God! "
Fred and I visited Lake Tahoe a few years ago. It was definitely a better trip than the one we took the previous year in the Berkshire Mountains. (See the "turkey" story.) We didn't really plan this trip to Tahoe. I like to think that God Himself had a hand in this particular vacation. I work at a community college and every year "Spring Break" affords us a mandatory vacation. Fred seems to enjoy this forced vacation and has planned a couple of trips for us during this time off. He called our timeshare company requesting a unit somewhere around or west of the Rockies as we have not seen much of these parts the US. I knew this was going to involve: mountains, snow and automobiles and this combination sends shivers down my spine. I guess all the colleges were on spring break at the same time because our timeshare folks said there was nothing available the same days I was off anywhere "out there". Fred asked them to keep a watch out for anything in the western part of the country and call us if anything came open. Well, about three weeks later we didn't receive a call; we received a confirmation in the mail. This is the "letter" you receive after you have confirmed a vacation spot over the phone. We never got that phone call – just a confirmation letter…for Lake Tahoe. Oh my goodness; Fred was so excited; he was like a kid in a candy store. I, on the other hand, stared into the heavens asking God, "What am I to learn from this gift"? I prayed, cried and even wrote pages in my journal about all my feelings. If any of you know my past stories you know that I really dread the combination of mountains, snow and cars. But, I also have a great love and respect for my heavenly Father so I sought to understand His purpose on this vacation spot. I remember writing in my journal; "Father, you created a beautiful world for us to enjoy and Lake Tahoe must be a wonderful place that you want me to see and experience as you did not give me the option of saying, No!
So, I will accept your gift that so many others would jump at the chance to have what you have blessed us with. Allow me to accept it graciously and enjoy your creation." Oh brother! God must have really been grinning when He heard that prayer. So, Fred and I prepared for our trip. We thought we would be doing a lot of hiking, but having a hip that prefers to stay home, we bought these bagged picnic chairs you carry on your back. Then you can choose the most beautiful place, pull the chair off your back, set it up and sit and drink in the view!!! BUT…! The chairs never left our cabin porch!
I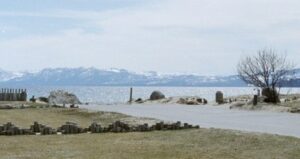 f we sat outside the unit to the far left of the picture window and lamp post this was our beautiful view!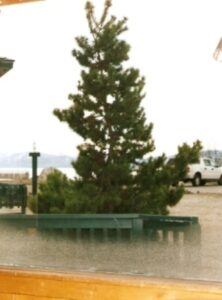 BUT…if we sat on the sofa inside the unit this was our view!
What a difference repositioning yourself can make.
(T.D. Jakes book, "Reposition Yourself")
When I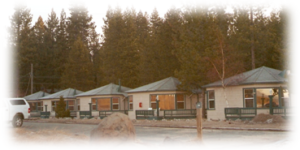 walked down to the shore of Lake Tahoe and turned around to see the view of our cabin from the water this is what I saw! Can you find our cabin? Ha!
I don't want to belabor the point but I know the Lord had lessons for us all week. From winding mountain passes to blocked views. Our week was full of growth, giving and awe inspiring moments. I'm going to let T.D. Jakes encourage you in the elements of "Repositioning Yourself". I want to get back to Choosing The 'Most Difficult' on Purpose.
One of our day excursions was to the awesome gondola ride up "Heavenly"; a ski resort about 20 miles southeast of where we were staying. We had been driving around the mountains surrounding Lake Tahoe all day and Fred asked if we could continue on to "Heavenly". Much to my chagrin I said, OK! And off we went, driving along steep drop offs and winding turns that would thrill even Evil Knievel. I, on the other hand, tried to enjoy the fabulous views without dread, trying to trust God and Fred with my life and/or death. (Notice how I asked Fred to drive furthest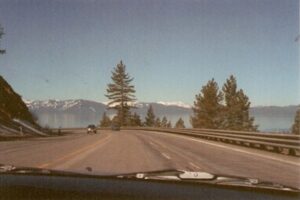 from the edge? He was so good and tried to keep my stress to a minimum; the rest was up to me and God! Big, blessed difference from the "turkey" story, huh! What a guy! What a God!)
We arrived at "Heavenly" and waited in line to buy tickets for the gondola up the mountain around 3:45. A gentleman came out and told those of us in line that this would be the last lift of the day and that we would not be allowed to get out of the gondola upon reaching the top. Fred and I looked at each other and Fred asked if we could wait and come back tomorrow. He wanted me to be able to get great pictures of the view from the top. Although I appreciated his concern for my photographic opportunities and capabilities, I did not look forward to the return trip again tomorrow.
I asked if we could ride up now and I would get the best shots possible from the gondola and that if the view was just too spectacular that it warranted getting out of the gondola; I would bear the return trip with him the next day if he was willing to bear paying the $26 each a second time. We agreed and up we went. We hadn't gone far when we were both convinced that a return trip was definitely warranted.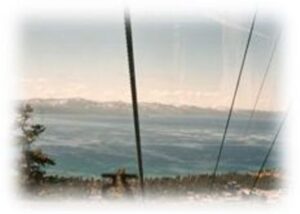 I tried to get good shots from inside the gondola but cables and the reflection from the glass really messed up the view. We were in awe with the beauty of God's creation and talked about our disappointment with not being allowed to get out at the top. But we assured each other that we would return tomorrow and hoped for as clear a day as this. It was funny how I have no fear of heights when dangling over the mountains in this gondola but driving along the mountainside sends me into a tearful panic. Well, we reached the top of "Heavenly" but when the doors of the gondola slid opened Fred and I sat obediently in our seats waiting for them to close again knowing we were forbidden from getting out. The lift attendant came over to our door and said, "Well, are you getting out?"
We said we were told we were not allowed to get out at the top as it was the last ride of the day. He said, Ah! Come on out – it's ok! Just don't take too long! We were so excited! I ran around like a chicken with my head cut off trying to capture the best shots I could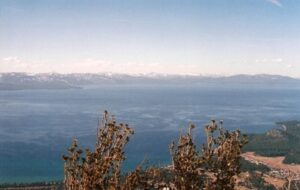 with a video camera and 35 mm before having to leave. We felt so blessed that the Lord honored our efforts in seeking to respect each other's request and blessing us with the desires of our hearts. How things had changed from the year before! Praise the Lord!
After we rode down the mountain again, we strolled into a gift shop. Fred bought me a hardy size mug not only to remember the day but to enjoy my coffee back at the resort as the cups they provided only held about 1/2 of a cup of coffee. I tied some knots, held on and prayed as we made our venture back to our cabin.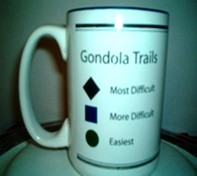 The next morning, I sat in the cabin living room enjoying the marvelous view of our pine tree and sipping a cup of coffee in my new mug. As I put the mug down on the table next to me, I noticed the writing on the back. NOT being the avid skier, I read the "gondola trail" signs on the back pondering their purpose. Now, I knew what the words meant but I had never considered the fact that skier's actually have a choice of trails to challenge their abilities and stamina. This made me wonder why anyone would choose the most difficult trail on purpose.
When I got home, I did some research and discovered, much to my amazement, the adjectives resorts use to attract the avid skier to the challenge of their slopes. These are the words written to describe the ski slopes at Heavenly . "Let's talk terrain. Put simply, we've got it all, from breezy blue squares to hair-raising black diamonds. There's no better tree skiing on earth. And experts will have a field day at Mott and Killebrew canyons. This is what other mountains want to be when they grow up. This is Heavenly."
Here's another; Breckenridge boast ranges of "the best learning terrain anywhere" to "vast steep terrain without the trees at a 45° pitch or "rocks to jump", "big fat bumps, hidden kickers" and "tree skiing at its best". Ranging from "easiest" to "expert" there was a slope to challenge any and every skier. I have never snow skied in my life. The closest I have ever come to having slabs of wood under my feet for any purpose was when I wore cardboard and fabric slippers to clean my hardwood floors. It seems absurd to me that people give great time, effort and expense to participate in a sport that offers "hair raising black diamond slopes"…on purpose; but when it comes to our marriages or a difficult chapter in our lives we give up on others including God! Why don't we take on the challenges life sends our way the same way we do the pursuit of careers, sports or hobbies. We need to see relationships as an opportunity to improve – to move from the "easy blue squares to the big fat bumps and hidden kickers" with ease and perfection. This kind of perfection requires commitment and practice. No one goes from "easiest to expert" just because they said "I do". Saying "I do" means I've entered the race; finishing the race will take the same attitude of love and commitment that our Heavenly Father has for us; unconditional, everlasting and as His word puts it; long suffering!
I'm still enjoying my coffee from my special mug and have wonderful memories of our trip to Lake Tahoe; the greatest being that I can and will commit to practice to "do the difficult on purpose" in all areas of my life. It won't show up in the form of skiing or death defying athletics but in my relationship with my husband and others. I pray you will too!
P.S. I would love for you to take another few moments to read the "turkey" story. (If you haven't already) You will see God's goodness and faithfulness in the comparison of Fred's and my relationship in each story. God told me (I took it as a promise) in the "turkey" story to give Him whatever good and faithful steps I could bring to my marriage and He would bless it. Wow! God will do amazing things in our lives if we will do our part and then be patient enough to wait for His amazing grace! What an awesome God we serve!